We live in a
new era, which is turbulent and aggressive whilst competitive, dynamic, and digital,
known as
The Fourth Industrial Revolution – Revolution 4.0

.
For this change is necessary and when an organization decides to implement
the process of Digital Transformation, they need to be aware of the disruptive change and impact that this will have.
And let me tell you, this trip is not going to be an easy one.
You are going to have to face many obstacles
along the way such as stronger competitors, internal resistance to change, legal and bureaucratical aspects, not to mention stake holders and share holders as well as the inevitable mistakes.
You will feel as though you have hit rock bottom. This is the moment when you need the capacity to adapt.
Its one of the most important aspects of
innovative leadership and to adapt you need Resilience.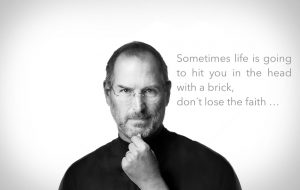 As
Steve Jobs
once said:
"sometimes life is going to hit you in the head with a brick, don´t lose faith".
Who hasn´t had a set back in life? Do you really know
what it means to be resilient?
I didn´t know what it was either, until I learnt it. From a physical point of view
resilience,
is the body´s ability to recuperate its natural state after having received a strong impact and suffered an alteration or disturbance.
This is resilience! Ok? The ability to bounce back. Do you
know who is
my example of resilience in life? Rafa Nadal.
Many years ago, when he was at the peak of his career, he made the decision to stop competing and temporarily retired in order to focus on his health, and fully recover from injury, possibly pulling the plug on his then very succesfull career. This blow came at a crucial moment in his professional life as a tennis player. He was on the point of representing Spain in the Olympic Games and involved in other important tournaments such as the masters, grand slams, etc. He was heavily criticized by the sports word who doubted his ability to bounce back and ever be the same again. Stating he would never make it back onto the shortlist of finalists, but Rafa had the resilience to recuperate not only physically but more importantly demonstrating his capacity to be resilient both morally and emotionally through his own self-motivation. Which is possibility one of the most difficult challenges we have to face as human beings: overcoming emotional barriers. Rafa, having been out of the scene for almost a year, now cured, came back to the tennis court with a bang. Taking the racket in his hand, not only did he win his first comeback match but has continued to carry on winning every competition ever since. Reclaiming his title as the number one tennis champion in the world. This is
Resilience in Innovated Leadership:

facing psychological, emotional and physical hurdles not just overcoming them but also transforming and evolving them into something bigger and better than before.

 
         Manuel Bonilla,